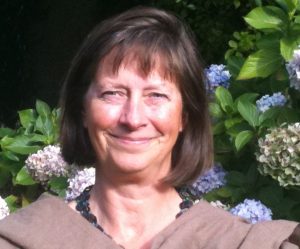 I have a mental health clinical background and worked from from 1980 to 1998 as an Occupational Therapist in the London area and Cornwall Social Care. I also worked as a Primary Care counsellor in GP surgeries in Cornwall for 12 years.
After completing my postgraduate training with Bangor in 2010, I have enjoyed offering courses (MBCT) for the NHS Primary Care Service and (MBSR) courses for the general public with Mindfulness Cornwall CIC (co-founded with Vici Williams in 2010).
---
Qualifications
MBI:TAC training, University of Exeter, 2014 and 2015
Supervisors' training, University of Exeter, 2011 and 2012
Supervision Training with Cindy Cooper and Jody Mardula, 2010, Bangor University CMRP – in London.
Certificate in Competency in Teaching MBIs, Bangor University CMRP (completing TTR1 and TTR2).
Postgraduate Diploma in Mindfulness-based Interventions, Bangor University CMRP
---
Teaching Training Specialisms
NHS (MBCT / MBSR) 8-Week courses – GP referrals or Self referrals
Co founder with Vici Williams of Mindfulness Cornwall CIC – offering MBSR eight-week private courses for the general public. We have also offered courses for health and teaching staff and one-to-one mindfulness
Numerous training days for the Health Promotion service (all sectors)
Other trainings/workshops (e.g. trainee GPs)
---
Supervision Experience
Having benefited hugely from my own personal supervision, it is a joy to share this growthful and collaborative way of supporting each other in our community of practitioners.
I have been fortunate to have Exeter University postgraduate mindfulness students on placements with me, and offered phone supervision for recorded and assessed courses.
Since 2011, I have offered both internal and external supervision for Exeter University and been an MBI:TAC assessor, marking the students' recorded MBCT/MBSR teaching. The Exeter supervisors' team then joined with the Mindfulness Network.
---
Supervision Specialisms
MBSR for the general public. (Gratitude to Lucinda Cooper and Rebecca Crane for their training and supervision in teaching the MBSR curriculum.)
MBCT for NHS Primary Care – GP or Self referred
I have particularly enjoyed supervising postgraduate students, supervised pathway and teacher training pathway students.
I also supervise new and established teachers.
---
Supervision Rate
1 hour individual session – £50-£60
½ hour individual session – £25-£35
Please see our Supervision FAQs for more details on the cost of supervision.
---
Personal Practice
Since the eighties, I have had a meditation practice and interest in Buddhist psychology and philosophy. When backpacking round the world (as you do), I sat a two-month retreat in Nepal with Thrangu Rinpoche and then two, 10-day, silent, Vipassana retreats in a forest Wat in Thailand. I then continued to go to teachings and retreats in Oxford with Mike and Shenpen Hookham.
On moving to Cornwall and helping to set up a Primary Care mental health service in GP surgeries, I attended an MBCT introductory day with Melanie Fennell in 2006. It was a revelation to find that I could integrate my mental health work with meditation, and path.
Since then, I have enjoyed the daily practice and twice a year retreats, mainly at Gaia House. The teachers – including Lucinda Cooper, Christina Feldman, John Peacock, Chris Cullen, Akincano, John Teasdale, and of course Jon Kabat-Zinn – have most illuminated my personal and teaching practice.
---
Research Activities and Interests
I am interested in how mindfulness, in my experience (both personally and teaching), supports healthier relationships – with ourselves and others. Having early experiences of dysfunction and wounding, I am proof of the pudding that mindfulness practice can support miraculous change for the good – resulting in doing less harm to the planet and each other!
---
Further info
Paula's website (with Vici Williams) – www.mindfulnesscornwall.co.uk