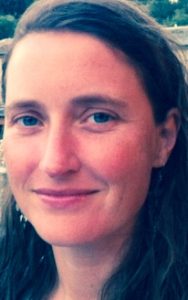 I completed my five-year masters in Teaching Mindfulness-based Approaches in 2011, with a distinction and award for being the top-performing masters student of that academic year. My thesis explored experiences of empathy in mindfulness-based teaching. I hold a Certificate of Competency in Teaching Mindfulness, and trained as a supervisor with Bangor in 2012, and mentor in 2016.
In 2010, I was invited by the Centre for Mindfulness Research and Practice (CMRP) at Bangor to become an associate teacher, and to teach Distance Learning programmes. I continue to teach Distance Learning, as well as supervise teachers and teacher trainees as an associate for The Mindfulness Network. I am an MBI:TAC assessor for Bangor and Exeter Universities. I regularly train teachers in leading mindful movement in Europe and more recently have co-taught enquiry teacher training in the UK.
I have taught MBSR programmes and yoga to the general public in London since 2007 and internationally in South East Asia, Eastern Europe and the Carribean. Underpinning my work is a firm commitment to making mindfulness-based approaches accessible to people from racially and economically diverse backgrounds. I am committed to supporting mindfulness course graduates in sustaining their practice. I teach two graduate programmes, the six-week Deepening Mindfulness course, which I designed, and The Interpersonal Mindfulness Programme, an eight-week relational mindfulness programme, based on the relational meditation practice of Insight Dialogue.
I have taught numerous workshops and workplace mindfulness courses for  companies including The Royal College of Physicians, Allianz, Daiwa Bank, Ernst and Young, NHS trusts and charities, amongst others.
My professional background was in higher education, teaching English to refugees, asylum seekers and migrant workers. This has supported me in establishing sound pedagogical skills, which are the foundation of my mindfulness based teaching and supervision. As well as being a language teacher I taught a Scaravelli inspired form of yoga for over a decade and have explored body-based awareness practices extensively, including Feldenkrias: Awareness Through Movement and Sensory Awareness. The centrality of movement in my meditative practice over two decades has evolved into an experiential and embodied understanding of the body as medium of awareness. Mindful Movement plays a central role throughout my eight-week courses.
I am an Insight Dialogue retreat teacher in training under the guidance of Gregory Kramer and have assisted retreats at Gaia House, as well as teaching retreat weekends. Relational practice is a central facet of my life, both formally and informally. Inhabiting a meditative awareness in relationship has supported the development of relational sensitivity, empathy and 'attunement,' which is particularly supportive of the inquiry process and my supervision practice.
---
Qualifications
B.A Hons English Literature, University of London ( 1992)
Scaravelli Yoga Teacher Training ( 2005 – 2007)
M.A Teaching Mindfulness-based Approaches (2006 – 2011)
Certificate in Teacher Competence (2005) Bangor University, CMRP
Mindfulness-based Supervision (2012) Bangor University, CMRP
Interpersonal Mindfulness Programme (2013) University of Massachusetts Medical School and The Metta Foundation
Mindfulness-based Interventions Teacher Rating Scale training (2016) CMRP
Training The Trainer, CMRP (2017)
---
Teaching-Training Specialisms
mindfulness teachers in training, new teachers and experienced teachers
mindful movement
relational mindfulness/enquiry
distance learning formats, including Skype and telephone
Mindfulness-based Stress Reduction (MBSR)
---
Supervision Experience
I undertook supervision training with Cindy Cooper and Jody Mardula in 2012, and have been supervising mindfulness teachers since 2013. You can read more about my approach to supervision in my blog for The Mindfulness Network:
https://www.mindfulness-supervision.org.uk/disturb-the-comfortable-and-comfort-the-disturbed-cindy-cooper/
---
Personal Practice
I have been a meditation and yoga practitioner since 1992. I am an avid student and read voraciously. My interests are eclectic, and include Theravada Buddhist and Insight Meditation teachings, Sufi and contemporary poetry, Eugene Gendlin's Focusing (I have completed foundational training), A.A. Almass's The Diamond Approach (I attend regular events, as well as having been a student of the school for a while). I am particularly interested in the transformative power of authentic relationship for individuals and communities.I am dedicated to walking my talk with regard to mindfulness, and regard the way I live my life as practice, a continual challenge and joy.
---
Research Activities and Interests
the pedagogy of mindfulness
the shaping role of language within mindfulness teaching
embodiment, the centrality of the body as a medium of awareness
relationality and the role of empathy in teaching mindfulness
---
Further Information
Rosalie's website – www.optimalliving.co.uk