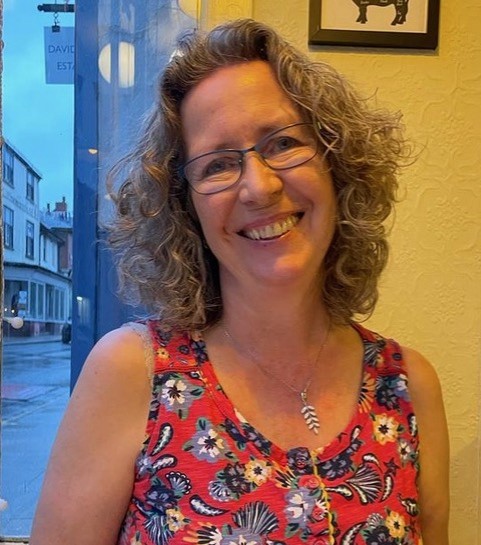 I have a Masters degree in Teaching Mindfulness-Based Approaches from the University of Bangor. Prior to training as a mindfulness teacher I was a counsellor for many years and spent 8 years as Manager of a counselling service within the NHS.
I live in the south of England where I offer regular courses, workshops and retreats. I also work further afield both within the UK and internationally. In 2013 I came across the work of Dr Chris Germer and Dr Kristin Neff in the form of Mindful Self-Compassion (MSC). This made a huge impact and I immersed myself in this field and am now one of the core Teacher Trainers for this programme. As well as teaching my own courses, retreats and workshops, I have been a supervisor for many years and a mentor and teacher trainer since 2018. My mindfulness work has mostly focussed on MBSR, MBCT and MSC, both in person and online.
I enjoy supporting other teachers in my various roles and often have newer teachers working alongside me too. I have a deep love of the countryside, part of my practice is mindful walking in the woods each day and I am also trained in facilitating in nature.
---
Qualifications
· MSc Teaching Mindfulness-Based Courses (distinction), University of Bangor
· Certified MSC Teacher, Teacher Trainer and Mentor, Mindful Self-Compassion, Center for Mindful Self Compassion, San Diego
· Trained supervisor, University of Bangor
· Certificate of Competence in Teaching Mindfulness-based Courses (advanced), University of Bangor
· Diploma in Casework Supervision
· Advanced Diploma Client-Centred Therapy
· MA Culture & Social Change
· BA (Hons) Cultural Studies
---
Teaching-Training Specialisms
· Mindful Self Compassion
· Ongoing practice support and development following initial training
· MSC Teacher Training & Mentoring for MSC Teacher Certification
---
Supervision Experience
I have mentored and supervised mindfulness teachers and teachers in training since 2014 and have attended CMRP training in mindfulness supervision. I have also attended training in use of the Mindfulness-based Interventions: Teacher Assessment Criteria (MBI:TAC). I have a previous qualification (2001) and lengthy experience in counselling supervision.
---
Supervision Specialisms
· MBSR
· MBCT
· Mindful Self Compassion
· Mindfulness Teachers in Training (including use of the MBI:TAC and the MSC:TAC)
· NHS including IAPT services
---
Supervision Rate
1 hour individual session – £60
½ hour individual session – £30
1 hour pairs session – £90
1 hour group session – £120
Please see our Supervision FAQs for more details on the cost of supervision.
---
Personal Practice
I have had a regular personal mindfulness practice since 2010 following the core practices of MBSR, and developed this further to incorporate self-compassion practices since 2013. My movement practice is enhanced by regular yoga classes and a love of mindful walking out of doors.
I am nourished and supported in deepening my practice by regular (at least annual) teacher-led retreats.
---
Research Activities and Interests
My MSc research explored ongoing support for participants following eight-week training courses. I am particularly interested in this field and feel an ethical responsibility to offer ongoing support to participants post their initial training.
---
Publications
MSc thesis: 'Getting it under your skin': experiences of monthly mindfulness practice support groups available on CMRP website: https://www.bangor.ac.uk/mindfulness/mastersresearch.php.en.
---
Further Information
Website – www.mindfulnesshampshire.co.uk