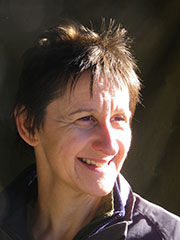 I work in a Psychological Therapies Service in the NHS in Dorset as the Lead for Mindfulness, implementing the MBCT service since 2010. I have enjoyed offering MBCT to groups within clinical mental health settings, including primary care, secondary care and mixed groups. I provide supervision to other trained mindfulness-based teachers within the Dorset NHS trust.
My employment is split between the mindfulness role and working part-time as a Mental Health Nurse within a Community Mental Health Team. I provide one-to-one mindfulness sessions within these roles. It has been a further delight to extend the opportunity to experience the potential within MBIs, through offering MBCT courses to staff within the NHS workplace.
I have had further training as part of the Mindfulness in Schools MYRIAD project (MBCT for Life, at the Oxford Mindfulness Centre) in 2017 and .b Foundations training (Mindfulness in Schools) in 2016. I also completed the MBSR specialist training retreat 2014.
---
Qualifications
Postgraduate Diploma in Mindfulness-based Cognitive Therapy, University of Exeter
Registered Mental Health Nurse, 1989
Registered General Nurse, 1986
---
Teaching Training Specialisms
MBCT in clinical settings using both the second edition and Transformation of Despair curriculum for those with a history of suicidal thinking
MBCT in the work place / general well-being
---
Supervision Experience
Completed Supervision Training with Cindy Cooper and Alison Evans
I have been a supervisor for the University of Exeter's MBI students since 2011 with further training in 2012 and 2013
Provide placements for Exeter University mindfulness-based students
Completed MBI:TAC training at Exeter University in 2014 and 2015
Am a MBI:TAC assessor for Exeter University
I have supported people along the Bangor and Exeter supervised pathways
---
Supervision Specialisms
MBCT in clinical settings as prevention of depressive relapse and for chronic depression/ residual symptoms / history of suicidal thinking
MBCT in non-clinical settings such as the workplace
Supporting trainee teachers, those who are newly qualified, and more experienced teachers
---
Supervision Rate
1 hour individual session – £50-£60
½ hour individual session – £25-£35
Please see our Supervision FAQs for more details on the cost of supervision.
---
Personal Practice
My interest in practice was initially through daily yoga practice and working one-to-one with a teacher. This led me to travel to India in my early twenties where I further studied yoga and practised Zen meditation with a Zen master. On return, I completed a four year yoga teacher training course to help further develop my own personal practice with greater depth and understanding. I continued to attend Zen retreats for many years, both here and abroad, and had a regular yoga practice.
There was then a period of less regular practice, although I attended sitting groups, but daily practice rarely happened despite underlying intentions.
Receiving the MBCT course as a first part of training in 2008 provided me with a much welcomed and much needed structure, both to practice daily and to have a sense of knowing how to practice in a clearer and more skilful way. This very much re-kindled a deeper and stronger commitment to the path of practice (both the formal and informal) which continues.
Practice includes the core MBI practices and practices from the wider teachings. These have been developed through many retreats at Gaia House and influenced by teachers including Rob Burbea, Catherine McGee, Christina Feldman, John Peacock and Gregory Kramer.