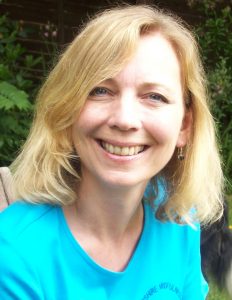 I have been a teacher since the early 1990s, working mostly in Foundation Learning with young people and adults with Special Educational Needs and Disability (SEND), neurodiversity, mental health and English for speakers of other languages (ESOL).  My teaching approach is learner-centred and about finding creative ways to enable students and staff to flourish and find their own path. I find this approach has been enhanced by developing mindfulness practice and drawing the roles of mindfulness teacher and educator into one.
I am experienced teaching MBIs in educational settings to staff, students and parents, as well as teaching MBSR courses in the community and the workplace.  Having completed the TTP earlier this year, I am happy to be bringing my own experience into offering mentoring.
I continue to teach and train in education, in initial teacher training programme (Cert Ed/PGCE to teachers in post-14 education) and community learning (mainly ESOL and well-being courses for parents).  I am keen to bring mindfulness as standard practice into teacher training and education, as I feel educational settings would benefit deeply from this.
---
Qualifications
Competency-assessed mindfulness teacher (advanced) MTPP module, Bangor University
Mental Health first aider training, Telford & Wrekin Community Learning
The Present CIC courses, train the trainer, Sarah Silverton
Mindfulness supervisor training with Bangor CMRP (Chester)
.b, .b Foundations, Paws b, Mindfulness in schools programmes (MiSP)
MA in Education, University of Wolverhampton
Certificate in Mentoring, University of Wolverhampton
Postgraduate Certificate Education (PCET) Greenwich University
BSocSci (2:1) Social Policy, University of Birmingham
---
Teaching-Training Specialisms
MBSR
MBIs in schools and education ( .b, Paws b and .b Foundations, The Present Courses)
MBIs for workplace settings
---
Supervision Experience
Have offered mindfulness-based supervision since 2016 after supervision training
Mentored new and trainee teachers since 2003 (not mindfulness-based)
---
Supervision Specialisms
MBIs in educational settings
MBSR
MBIs for work place settings
---
Supervision Rate
1 hour individual session – £50-£60
½ hour individual session – £25-£35
Please see our Supervision FAQs for more details on the cost of supervision.
---
Personal Practice
I have practised meditation since my late teens and yoga since my late twenties.  My meditation and yoga practice evolved into a daily mindfulness-based practice around 2009 after working with an inspirational mindfulness teacher.   Although my own practice is secular, I believe in inclusion and celebrating diversity, and I welcome learning about different forms and traditions of meditation and movement practices.
---
Research Activities and Interests
Areas that I am interested in are bringing mindfulness in educational settings and possibilities around mindfulness being part of initial teacher training (PGCE / Cert. Ed.).
Other areas of interest are trauma-informed mindfulness and mindfulness for people who identify with neurodiversity and/or SEND.
---
Further info
Helen's website – https://shropshiremindfulness.co.uk/