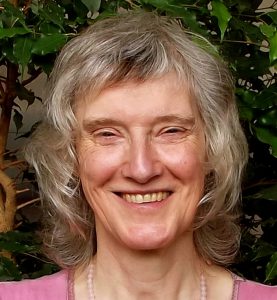 I can offer supervision only to those whose main interest is having support to teach Mindful Self-Compassion (MSC) courses. (Although I have taught and trained MBSR/MBCT teachers in the past, since I am not working with those courses at present, I cannot offer supervision for those courses.)
---
General Information about Judith
I have been regularly practising mindfulness meditation since the 1970s, including going on 5–12-day, silent retreats most years. I was delighted to start work with Mark Williams in the 1990s on the first research trial of Mindfulness-based Cognitive Therapy (MBCT), bringing together my skills as a therapist with my interest in meditation.
I am a founder staff member of the Centre for Mindfulness Research and Practice (CMRP) at Bangor University, and was trained to teach Mindfulness-based Stress Reduction (MBSR) and MBCT by teachers from the Center for Mindfulness in the USA, along with CMRP teachers. As well as teaching eight-week mindfulness-based courses, I started training MBSR and MBCT teachers both through CMRP's CPD work, and through their Master's programmes, which I directed for six years.
I learned with Christopher Germer and Kristin Neff through their Mindful Self-Compassion (MSC) short and full courses from 2011, and trained as an MSC teacher with them in March 2014. I have been teaching the MSC course since then, and trained MSC teachers in 2014 and 2015. I have also been teaching silent meditation retreats since 2013, and together with Vanessa Hope have developed five-day retreats focusing on mindfulness and self-compassion, which include all the MSC practices, both formal and informal.
I have worked as a supervisor of mindfulness-based teachers for over 10 years, and more recently I supervise MSC teachers. I very much enjoy this work, both on a one-to-one basis with more experienced teachers, as well as working with new teachers in the Center for MSC's online consultation groups. We explore both the practicalities and the emotional depths of teaching, and I also value our enquiring into and supporting the supervisee's personal meditation practice and the relationship of mindfulness to their life and work. I was one of the group working with Rebecca Crane to develop the Mindfulness-based Interventions: Teaching Assessment Criteria (MBI:TAC), which I can use to support supervisees in recognising their teaching strengths and learning needs.
My main interest at present is in compassion-based teaching and personal work, with a strong grounding in the practice and attitudes of mindfulness. If my MSC supervisees are also teaching MBSR or MBCT, I can give general support with this work too. Although I am not teaching MBCT or MBSR at present, I organise and teach on our local monthly follow-up group for mindfulness-based course graduates. My own practice is founded in Theravada Buddhism, but unless requested otherwise, my supervision work is secular.
---
Qualifications
Certified Mindful Self-Compassion (MSC) Teacher and Teacher Trainer with the Center for MSC, USA, 2015
Trained MSC Teacher, March 2014
Two-day training in supervision of mindfulness teachers, CMRP, 2013
Certificate in Supervision, Bob Cooke, TSTA, UKCP regd, Manchester Institute for Psychotherapy 5 x 1-day workshops, 2007
Trained as an MBSR and MBCT teacher with the Centre for Mindfulness Research & Practice (CMRP), Bangor University, and with teachers from the Center for Mindfulness, MA, USA, 2001-2003, with further CPD training
Trained in humanistic clinical psychotherapy with the Institute of Transactional Analysis 1991-1997
Certificate of Qualification in Social Work, BASW, 1973
MA Hons, English Literature, Cantab, 1971
---
Teaching / Training Specialisms
I offer supervision for teachers giving MSC courses to general populations, and am particularly interested in assessment of participants for these. I have the following experience of training teachers in both MSC and MBSR/MBCT:
MSC Teacher Trainer, July 2015
MBSR and MBCT Senior Teacher Trainer with CMRP, Teaching on Teacher Development Retreats and Teacher Training Retreats, 2006-2014
Tutor on Teaching 1, CMRP post-graduate teacher training module, 2006-2015
Director of Master's Programmes with CMRP, 2006-2012
---
Supervision Experience
Supervision of MSC teachers, 2014-present
Supervision of MBSR & MBCT teachers through CMRP, the Mindfulness Network, and privately, 2006-present
Mentored by Michelle Becker while teaching MSC course, 2014
Supervised by Melissa Blacker while teaching MBSR course, 2010-2011
Monthly co-supervision with experienced mindfulness teacher, 2007-2017
See 'Qualifications' above for details of supervision training
---
Supervision Specialisms
Teaching Mindful Self-Compassion (MSC) courses in weekly and five-day formats
Teaching MBSR and MBCT courses for those teaching MSC courses
Co-teaching, both on MSC and mindfulness courses
Taster and follow-up sessions for both MSC and MBSR/MBCT courses.
Personal practice of mindfulness and loving-kindness/compassion, and bringing these qualities into everyday life
Use of the Mindfulness-based Interventions: Teaching Assessment Criteria (MBI:TAC) where requested
---
Supervision Rate
I charge £50 for 60 minutes, £40 for 45 minutes, and £30 for 30 minutes.   If these charges would be difficult for you, please get in touch so we can talk about possibilities.
Please see our Supervision FAQs for more details on the cost of supervision.
---
Personal Practice
I practise breath-based and loving-kindness meditations most days, and have a daily chi-gung practice in the morning, and an evening mindful walking practice where I live in Snowdonia. I find that kindness and compassion practices are essential for my mental health and wellbeing, while movement practices support my body with gentle self-care and help me to deal with chronic pain. Practice has become the foundation of my life, and I feel a strong sense of the heartfulness of connection with others through sharing this very personal work and the joy it can bring. The other practice I enjoy regularly is singing in local community choirs, including at funerals and weddings.
---
Research Activities and Interests
I was involved in the initial research into MBCT working with Professor Mark Williams, and was one of the authors of several publications for that RCT and other research into mindfulness and into social care. Although I retain an interest in research, I am not up-to-date with current work and would not be able to support supervisees in research or evaluation.