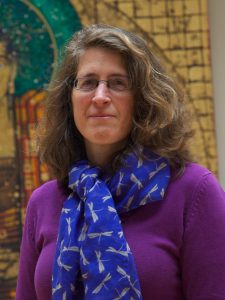 I've taught mindfulness since 2008, mainly to general population groups and in clinical contexts, as well in schools and the workplace. I teach MBCT for Depression, MBCT for Anxiety, MBCT for General Well-being, MBSR, MBCT for Life, MBCL, and MBIs in schools. In addition, I run courses through Sussex Mindfulness Centre (SMC) and I'm an Associate Teacher for Mindful Health, an organisation that works in collaboration with the SMC to provide mindfulness teacher training. I'm also a qualified Speech and Language Therapist.
In addition to MiSP training and experience, I've taught MBSR to pupils and teachers, and delivered MBCT for Life to teachers as part of the MYRIAD research trial. I've also taught MBCT to carers.
---
Qualifications
MYRIAD training (MBCT For Life) (Oxford Mindfulness Centre)
MBCL training
MBI:TAC (Centre for Mindfulness Research and Practice, CMRP)
Mindfulness Supervision training (CMRP)
.b and .b Foundations
Postgraduate Diploma in Mindfulness-based Approaches (Bangor University)
Certificate of Competence to Teach Mindfulness-based Approaches (CMRP)
MSc Language Pathology (Newcastle University)
BA (Hons) History (Sussex University)
---
Teaching Training Specialisms
MBCT for General Well-being
MBCT for Depression and MBCT for Anxiety in clinical and research settings
MBCT For Life
MBSR for General Population
MBIs in Schools and Education
---
Supervision Experience
I've been a supervisor since 2015
Supervising teachers in training, newly qualified and experienced teachers, who deliver mindfulness in a variety of contexts
Offering supervision within IAPT since 201
---
Supervision Specialisms
MBCT for general population groups
MBCT for clinical/NHS settings
MBSR for general populations
Mindfulness in Schools (MiSP) programmes
Educational and Other Settings relating to Young People, Families and carers
---
Supervision Rate
1 hour individual session – £50-£60
½ hour individual session – £25-£35
I offer groups in blocks of 4 sessions with 4-6 people (minimum 4), with a usual price of £120 per person for 1 ½ hours (4 people)  and £80 per person (6 people) for all 4 sessions. If you are interested in Group Supervision please contact supervision@mindfulness-network.org.
Please see our Supervision FAQs for more details on the cost of supervision.
---
Personal Practice
I've had a daily meditation practice since 1994 when I was motivated to establish a practice to deal with stress and its effects on my physical health. I subsequently became a Buddhist, practising primarily within the Triratna community. I was ordained in 2010 and have extensive retreat experience both within Triratna and also at Gaia House. I also undertake personal retreats, where I have benefitted enormously from meditation interviews with Rob Burbea, Kristin Krantz and Yanai Postelnik. I have a yoga practice informed by Hatha and Iyengar approaches.
My current practice consists of the core mindfulness practices, in addition to compassion and vipassana practices.
---
Research Activities and Interests
Teacher on MYRIAD research trial (2017)
Teacher on Sussex Mindfulness Research at Sussex University (2017)
I'm interested in exploring mindfulness for trauma, and developing and applying compassion work.
---
Further Information
Kate's website – https://www.mindfulness4life.co.uk