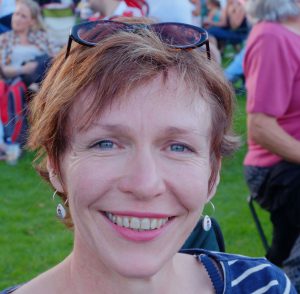 I am currently employed by the University of Exeter as Lead Tutor on the Postgraduate Mindfulness-based Cognitive Therapies and Approaches Programmes. I also work as a mindfulness-based cognitive therapist and cognitive behaviour research therapist in the AccEPT clinic embedded at the university. In addition, I train, supervise and assess trainees on our IAPT mindfulness teacher training programme and Supervised Pathway.
Prior to this, I worked as a cognitive behaviour therapist in the NHS teaching MBSR to people with long-term health conditions, for stress and in recovery from anxiety disorders. I began my career as a Probation Officer specialising in CBT programmes with the National Probation Service between 1992 and 2008.
---
Qualifications
I trained as a mindfulness teacher on a supervised pathway at Exeter University (2012/3) with Willem Kuyken, Alison Evans, Christina Feldman, Jenny Wilks and Desiree Hansson
MA Social Work (Probation) Exeter University 1997. I wrote my thesis on working with adult survivors of childhood sexual abuse in the criminal justice system.
Certificate of Qualification in Social Work (1997)
Postgraduate Diploma in High Intensity Therapies at Exeter University 2010 (Cognitive Behaviour Therapy)
British Association of Behavioural and Cognitive Psychotherapists Accredited Therapist
---
Teaching Training Specialisms
Postgraduate Certificate, Diploma and NHS Mindfulness-based Cognitive Therapies and Approaches
MBSR for the general public and in youth offending settings
I have worked on a feasibility study exploring the acceptability and efficacy of MBCT for people who had not responded to CBT for depression.
---
Supervision Experience
I am currently providing mindfulness-based supervision to NHS therapists in mindfulness teacher training at Exeter University.
I have completed Supervision Training with Cindy Cooper and Alison Evans, and MBI:TAC training with Rebecca Crane.
---
Supervision Specialisms
Mindfulness-based Cognitive Therapies
Mindfulness-based Stress Reduction in clinical settings, and with the general public and in a youth justice setting.
Cognitive Behavioural Therapy
---
Supervision Rate
1 hour individual session – £50-£60
½ hour individual session – £25-£35
I offer groups in blocks of 4 sessions with 4-6 people (minimum 4), with a usual price of £120 per person for 1 ½ hours (4 people)  and £80 per person (6 people) for all 4 sessions. If you are interested in Group Supervision please contact supervision@mindfulness-network.org.
Please see our Supervision FAQs for more details on the cost of supervision.
---
Personal Practice
 I practised Transcendental Meditation from the age of eighteen and have also practised Hatha Yoga throughout my adult life. I established a daily mindfulness practice in 2011, which is supported by regular mindfulness-based supervision.
I sit MBSR/MBCT weeklong and four-day retreats at Gaia House with Christina Feldman, John Peacock, Chris Cullen, Jenny Wilkes and Akincano M Weber to nourish my practice and teaching. I participated in the All-Party Parliamentary Group on Mindfulness in the Criminal Justice Service in 2014.