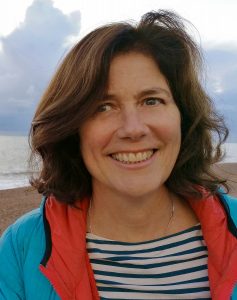 I am a Mindfulness Teacher, Supervisor and Dual Qualified Registered Nurse (Mental Health and Adult General) .
I have been teaching Mindfulness since 2015, when I trained as a Mindfulness based Cognitive Therapy Teacher with the Sussex Mindfulness Centre. I went on to train in Mindfulness based Relapse Prevention, and have taught 50+ eight-week courses in both MBCT and MBRP since then, in NHS, Charity and Community settings. In addition to this I have taught adapted courses, and delivered workshops in many organizations, including NHS Clinical Commissioning Departments, University of Brighton Student Wellbeing Services, and HIV Services in Brighton. I am a regular Visiting Lecturer at the University of Brighton, and currently teach the Mindfulness Module on the Adult Mental Health Nursing BA. I am also currently Co-teaching MBRP to Mindfulness teachers with Ser Integral, the Portuguese Centre for Mindfulness, Lisbon. I am an associate teacher for the Sussex Mindfulness Centre, and value my connection with this community.
As a Dual trained Registered Nurse, I have 30 years experience of working in NHS Mental Health services, Substance Misuse Services, Palliative Care and HIV Services, and have experience of teaching mindfulness in all of these settings. My work is now mostly mindfulness based, and I divide my time between teaching eight-week courses, and supervising students and mindfulness teachers.
---
Qualifications
· MBCT Teacher Training
· BA Social Anthropology
· MA Medical Anthropology
· Registered Mental Health Nurse
· Registered General Nurse
---
Teaching-Training Specialisms
· MBCT
· MBSR
· Mindfulness-based Compassionate Living
· Mindfulness-based Relapse Prevention
---
Supervision Experience
I completed the supervision training with MN/CMRP in April 2020. I have been supervising and mentoring Mindfulness students and colleagues since 2019.
I am trained in the use of the Mindfulness based Intervention Teaching Assessment Criteria (MBI TAC) for the assessment of students in training.
---
Supervision Specialisms
· MBCT
· MBRP
· MBCL
· NHS Context
· Mental Health
---
Supervision Rates
1 hour individual session – £50-£60
½ hour individual session – £25-£35
Please see our Supervision FAQs for more details on the cost of supervision.
---
Personal Practice
I have been practicing Mindfulness meditation since 2000, when I attended my first eight- week course. I found it really useful for finding perspective and dealing with a full-time job and small children, and the anxiety that the situation can produce. I was inspired by these personal benefits, to develop my practice further and eventually to train as a mindfulness teacher. I have attended many Retreats in this period (mainly Gaia House and Rivendell) and find these essential for deepening and resetting my practice. My daily personal practice involves sitting and movement (Chi Kung and Yoga).
---
Research Activities and Interests
I have a particular interest in making mindfulness accessible and have taught mindfulness with people affected by homelessness or insecure housing, and who are in recovery from substance misuse.
Since 2015, I co-developed and taught an adapted, particularly trauma sensitive, shortened introductory course for Students at the Recovery College in Brighton, many of whom experience mental health conditions, that would normally rule out a more in-depth Mindfulness course.
I am about to pilot an eight- week MBRP course with a cohort of men and women who are living with HIV, and using substances problematically for the Sussex Beacon Day Program in Brighton.
---
Further info
I am a keen year-round sea swimmer and am convinced of the benefits of getting out into nature and the sea for our mental health and wellbeing.
For further info please see: https://www.simplymindfulnessbrighton.co.uk/