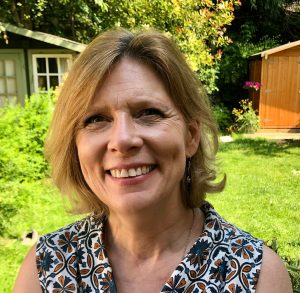 Since 1989, I have worked in the NHS secondary mental health care service, with psychological therapies teams across Hampshire. My primary role as lead for Mindfulness, is implementing MBCT programmes and ongoing mindfulness practice provision for both service users and staff.
Starting out as an Art Psychotherapist, I became involved with Dialectical Behavioural Therapy in 2005. As DBT team lead, my interest grew in mindfulness practice as a context for therapeutic change. Providing supervision within different professional modalities has been an important aspect of my work. More recently I have supervised students studying Mindfulness-based Approaches courses at the University of Exeter and Clinical Psychology Trainees from the University of Southampton interested in Mindfulness-based Approaches in their final year of training.
---
Qualifications
MSc Psychological Therapies Research and Practice (MBCT and Approaches)
University of Exeter (2016)
Postgraduate Diploma in Mindfulness-based Cognitive Therapy
University of Exeter (2011)
Compassion Focused Therapy training
Deborah Lee,  Berkshire Trauma Service (2017)
Intensive and Advanced Dialectical Behavioural Therapy Training
USA and British Isles DBT Training (2005 &  2010 )
Foundation training in Group Work (1991)
Institute of Group Analysis
Post graduate Diploma Art Psychotherapy (1989)
St. Albans College of Art and Design
---
Teaching-Training Specialisms
MBCT in clinical settings, adult mental health in particular
MBCT – adapted for mental health workers
Mindfulness practice following on from MBCT, in clinical and non – clinical settings
---
Supervision Experience
Since 2013 I have offered mindfulness-based supervision and clinical placements to mindfulness-based trainees at University of Exeter and Clinical Psychology Trainees at University of Southampton.
I attended the Train the Trainer Mentorship Training, University of Bangor (2017)
Supervision Training Days, University of Exeter (2013)
Through my work I have also offered supervision across a range of clinical modalities, including Art Psychotherapy  and DBT.
---
Supervision Specialisms
MBCT for Clinical populations.
Adapted MBCT for mental health staff
Mindfulness practice as a follow on from MBCT training
---
Supervision Rate
1 hour individual session – £50-£60
½ hour individual session – £25-£35
Please see our Supervision FAQs for more details on the cost of supervision.
---
Personal Practice
I was first introduced to mindfulness practice within a clinical setting in 2005. Following the  core practices of MBCT, mindfulness practice is now at the heart my everyday day life.  I am intrigued by ever changing  experiences of ease and challenges of mindfulness practice and am grateful for the insight and nourishment the practice has brought me personally.
I am coordinator for my local Community of Interbeing Sangha.
Retreat facilitators who have been particularly inspirational for me include, Christina Feldman, John Teasdale, Suvaco and  Yanai Postelnik.
---
Research Activities and Interests
My MSc research focused on developing a modified MBCT programme for mental health workers. I am interested in the realm of interoceptively and how deepening our insight into felt sense awareness and emotion experiencing may limit the possibility burnout in mental health workers.