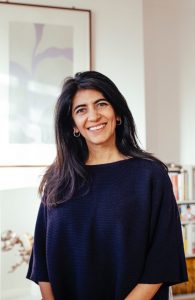 I offer supervision in English and Urdu/Hindi.
I teach mindfulness in a variety of contexts – corporates, charities, arts organisations, schools and educational institutions, to individuals and within the field of mental health through the mental health charity, Mind. I am known for my enthusiastic approach to mindfulness and have enjoyed leading popular mindful walking sessions at the V & A Museum and drop-in workshops at the Women of the World Festival at the Southbank Centre.
My work has included MBSR courses for NHS trusts, education authorities and businesses. I am currently working for the mental health charity Mind, teaching mindfulness courses for their clients. I helped to develop a pioneering course, Radical Self-Care based upon MBSR/MBCT/MSC and CFT. This course was recently selected as one of the finalists for the Mindfulness Initiative's inaugural Innovations in Mindfulness Award. I am a lead trainer for the Radical Self-Care Practitioner Training Pathway.
I teach the three MISP programmes, Dots, Paws B and Dot B in schools and run mindfulness training for educators, parents and governors. I run workshops and workplace mindfulness courses for corporates: including KPMG and the Green Finance Institute and for charities including Galop and The Bridging Project.
I am passionate about the following areas: mindfulness in mental health contexts, mindfulness in education, trauma sensitive mindfulness and awareness of intersectionality and making mindfulness courses as inclusive as possible, for everyone and especially for those who hold protected characteristics. I have taken a lead on Equity, Diversity and Inclusion (EDI) training and, in particular, around awareness of race and LGBTQ+ identities in several workplaces. I also serve as a Trustee at the Mindfulness Network, UK, where I sit on the EDI Committee.
---
Qualifications
· Teacher Training Pathway through Bangor's Centre for Mindfulness Research and Practice
---
Teaching-Training Specialisms
· I am a lead trainer for the Radical Self-Care Practitioner Training Pathway offered by Rainbow Mind.
· I ran a day of training on EDI for the Mindfulness Network Supervision Team.
· I delivered training on EDI and Mindfulness at the Netherlands Mindfulness Symposium
· I have supported as a trainer on the Mindfulness Practitioner Training Pathway offered by Mind, City, Hackney and Waltham Forest
---
Supervision Experience
· Individual and paired supervision
· Supervision for teachers offering courses to participants experiencing mental health challenges
· Group supervision for trainees on the Practitioner Training Pathway for the 8-week programme, Radical Self-Care
---
Supervision Specialisms
· MBSR for general wellbeing
· MBSR for workplaces
· MISP Programmes: Dots, Paws B and Dot B
· Radical Self-Care
---
Supervision Rates
1 hour individual session – £50-£60
½ hour individual session – £25-£35
Please see our Supervision FAQs for more details on the cost of supervision.
---
Personal Practice
I first came to formal practice more than 30 years ago and have been practising within community for the last 20 years. My practice is varied and encompasses: walking, sitting, chi gung movement meditation as well as body scan practices. I also practice in an informal way, through communication, attending to everyday activities, and by walking my chihuahua, Lotus, on the local common.
I have been attending annual retreats for the past two decades, including silent retreats at Gaia House. I have had the good fortune to attend many retreats with Thich Nhat Hahn and to have received guidance for my personal mindfulness practice from senior monastics at Plum Village and also with teachers in the Insight Meditation tradition.
---
Research Activities and Interests
· I enjoy taking up opportunities to speak about mindfulness and self-care, examples include a talk on Trauma-Informed Practice at the Mindfulness in Schools Conference and a keynote on Co-Creating Radically Caring Cultures at the Sussex Mindfulness Conference.
· I am a published author on the subject of mindfulness (Mindfulness for Children, Kyle Books, 2018) and have spoken on live national radio and television about this topic.
· Currently, I'm researching and writing the manual for the 8-week Radical Self-Care
programme, which has been developed by Rainbow Mind.
· I am a member of the Steering Committee for Freedom Together, a Black, Indigenous, People of Colour (BIPOC) Mindfulness Teacher Training Programme.
· I had the privilege of co-organising a Black, Asian, People of Colour (BAPOC) Mindfulness Symposium in 2022.
---
Publications
Afzal, U. (2018). Mindfulness for Children, Kyle Books
---
Further info
I can be contacted via email at contact@beherebreathe.co.uk
Uz's website: www.beherebreathe.co.uk
Short film about Radical Self-Care: https://vimeo.com/776717210/31253578c8