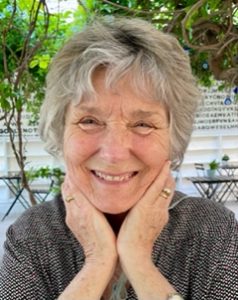 In July 2022 I stepped back from my role as Director of Training for the Oxford Mindfulness Centre (now known as the Oxford Mindfulness Foundation OMF) and have taken the role of Development Director, Training and Curricula. I hold a strategic role in advising and developing training and curricula, as well as continuing to teach and train MBCT for Life. I work closely with various field leading organisations and colleagues including Willem Kuyken, Ritblat Professor of Mindfulness and Psychological Science at the University of Oxford, with whom I jointly developed the 'Taking it Further' course (for those who have already completed an 8-week course and want to go further) and the new 3-session 'Introducing Mindfulness' course (for those who are interested in mindfulness but not yet ready to commit to a full 8-week course). I also work closely with the Chief Executive Officer to identify and develop international collaborations.
Additionally, I lead the OMF's work in identifying potential future teachers and trainers and providing apprenticeship guidance. One of my pleasures in supervising is supporting new teachers in their development.
One of my previous roles for OMC was MBI:TAC Lead, where I developed MBI:TAC assessment for trainees on a non-academic pathway, including trainees working within the NHS IAPT service. In this role I was privileged to work with Rebecca Crane and others in developing a training pathway for MBI:TAC in self-reflection, training, supervision and assessment.
I have an academic background in Psychology (MA Oxon) and most of my working life was spent in a business context, where my interest was in human potential and flourishing. Alongside work life, I have been practising meditation since the 1970s, and attended many long retreats both as a retreatant and as a retreat supervisor.
---
Qualifications
Postgraduate Certificate in Teaching Mindfulness-based Programmes, CMRP Bangor University
MA (Oxon) (First Class) in Experimental Psychology, St Anne's College, Oxford
---
Teaching-Training Specialisms
MBCT for Life: teaching 8-week courses and leading OMF 12-month teacher training cohorts
12-session Taking it Further course: teaching and training
3-session Introducing Mindfulness: teaching and training
---
Supervision Experience
I have been supervising since 2018. I have completed supervision training with the OMC, the Mindfulness Network level 1 and level 2;  and  Exeter/Cedar (IAPT MBCT supervisor training).
I currently offer individual or group supervision to trainees who are on, or have completed, OMC training pathways, but would like to extend this to trainees and teachers from other backgrounds.
I am particularly interested in offering supervision to teachers working to increase access to mindfulness in populations and countries where it is currently limited.
---
Supervision Specialisms
MBCT-L teaching and training
MBCT for non-clinical populations
Taking it Further teaching and training
Introducing Mindfulness teaching and training
Supervising trainers for the above courses
Teachers who may no longer be teaching regular 8-week courses but who seek ongoing supervision and opportunities to reflect
---
Supervision Rate
1 hour individual session – £50-£60
½ hour individual session – £25-£35
Please see our Supervision FAQs for more details on the cost of supervision.
---
Personal Practice
I have had a regular meditation practice for over 40 years, beginning first as a student with Transcendental Meditation, moving from there to a choiceless awareness practice. I began practising the forms of meditation used in MBPs in 2010. I also have a longstanding mindful movement practice – yoga for many years but now Pilates.
I have been undertaking regular retreats for many years, some guided, some unguided. In addition to attending retreats by recognised mindfulness retreat leaders, I also undertake completely solitary unguided retreats in a retreat cell in Scotland. I find these weeks to be amongst the most challenging and rewarding of my life.
I also regularly attend seven-day silent retreats lead by the American teacher Adyashanti, described by Jack Kornfield as specialising in 'awareness of awareness.'
---
Research Activities and Interests
One area is to explore the implementation of mindful behaviour into different contexts and challenges (e.g. climate anxiety, economic stress). Another is to continue to explore 'secular' pathways for those who wish to continue to deepen their practice, and to include in this the wisdoms from the world's great spiritual and philosophical traditions.