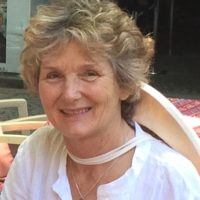 For many years I have been interested in mindfulness for well-being and flourishing, and for cultivating a compassionate relationship with ourselves, with others and with our world.
I am an Associate teacher and trainer for the Oxford Mindfulness Centre (OMC). I am one of the lead trainers for MBCT for Life (MBCT-L) and have taught and trained MBCT and MBCT-L nationally and internationally.
In addition, I am MBI:TAC Lead for OMC and have developed the service for competency assessment of IAPT trainees and trainees on OMC's non-academic training programmes. I have worked with Rebecca Crane and others to develop MBI:TAC addenda for assessing those teaching MBPs in workplace settings.
Prior to this. I worked with my husband, an architect, to build up and run an award-winning architectural practice (using skills developed through management training with Unilever Companies after graduating.) Alongside this I studied and later worked as a supervisor, on six-month retreats in Scotland, combining meditation and mindful awareness practice with study of some of the world's great wisdom traditions.
---
Qualifications
Postgraduate Certificate in Teaching Mindfulness-based Programmes, CMRP Bangor University
Apprentice training with OMC leading to becoming a full OMC trainer nationally and internationally
Apprentice teaching with OMC leading to Certificate of Competence to Teach MBCT
I have completed the formal training in MBSR with the Centre for Mindfulness
MA (Oxon) (First Class) in Experimental Psychology, St Anne's College, Oxford
---
Teaching-Training Specialisms
MBCT for Life for non-clinical settings including educational and workplace
MBCT for non-clinical populations
Mindfulness 'Finding Peace' for educational, workplace, NGO and other non-clinical settings
I am beginning to train with Rebecca Crane and Willem Kuyken as an MBI:TAC trainer
---
Supervision Experience
Having thought about becoming a supervisor for many years, I began supervising in 2018. I have trained in supervision with OMC, the Mindfulness Network, and with Exeter/Cedar (IAPT MBCT supervisor training).
I offered group supervision for those teaching MBCT-L to school teachers as part of OMC's MYRIAD research project, and I now offer group supervision in MBCT-L alongside Willem Kuyken and Paul Bernard.
I currently offer individual supervision to trainees who are on, or have completed, OMC training pathways, but would like to extend this to trainees and teachers from other backgrounds.
I am particularly interested in offering supervision to teachers working to increase access to mindfulness in populations where it is currently limited.
---
Supervision Specialisms
MBCT-L for non-clinical settings including educational and workplace
MBCT for non-clinical populations
Mindfulness 'Finding Peace' for educational, workplace, NGO and other non-clinical settings
Mindfulness in the Workplace
Mindfulness with the general public
Students on training programmes
---
Supervision Rate
1 hour individual session – £50-£60
½ hour individual session – £25-£35
Please see our Supervision FAQs for more details on the cost of supervision.
---
Personal Practice
I have had a regular meditation practice for over 40 years, beginning first as a student with Transcendental Meditation, moving from there to a choiceless awareness practice. I began practising the forms of meditation used in MBPs in 2010. I also have a longstanding mindful movement practice – yoga for many years but now Pilates.
I have been undertaking regular retreats for many years, some guided, some unguided. I attend retreats by MBCT/MBSR teachers such as John Peacock and Christina Feldman. I also undertake completely solitary unguided retreats in a retreat cell in Scotland. I find these weeks to be amongst the most challenging and rewarding of my life.
I also regularly attend seven-day silent retreats lead by the American teacher Adyashanti, described by Jack Kornfield as specialising in 'awareness of awareness.'
At our home in the Cotswolds, we offer days of practice led by teachers such as John Peacock and Jaya Rudgard, and we hope to expand this.
---
Research Activities and Interests
As an OMC Associate, I am involved with research on the efficacy on MBCT-L. I am also working with Professors Willem Kuyken and Ruth Baer on developing a 12-module 'Beyond the Eight-Week Course' programme and will collaborate with them when they begin researching this.