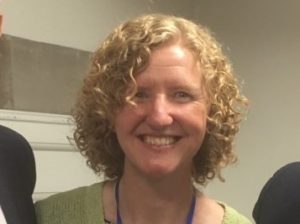 I am part of the teaching, training and mentoring team at the University of Oxford's Mindfulness Centre (OMC). I am also a senior researcher in the Dept of Psychiatry, currently working on the MYRIAD project which has been investigating all aspects of mindfulness in schools. I mainly teach MBCT-L to global classes over Zoom.
I was formally an assistant head teacher and worked in education, at all levels for over 20 years and before that, a management accountant working for AstraZeneca.
---
Qualifications
MSc in Mindfulness-based Approaches from Bangor
Professionally trained with Oxford in the following programs / areas

MBCT-L
Finding Peace in a Frantic World
Taking it further
Frame by Frame
Introducing Mindfulness
Supervision
MBI-TAC
Trauma Sensitive approach (David Treleaven)
---
Teaching-Training Specialisms
MBCT-L (teaching)
MBCT-L (Training)
Taking it Further
Frame by Frame
Introducing Mindfulness
Mentoring the 6 Month and 12 month teaching routes at Oxford
Mindfulness in Schools Project (MiSP) '.b' program
Mindfulness for school teachers / people working in Education
Retreats (days, weekend and week-long)
---
Supervision Experience
As part of the MYRIAD research, I co-supervised teachers and supported supra-vision sessions with Prof Willem Kuyken.
---
Supervision Specialisms
MBCT-L
Mindfulness in Education
---
Supervision Rates
Initial meeting ½ hour – £25
1 hour individual session – £65
½ hour individual session – £35
Shared supervision with two supervisees – £80 per hour (2 people)
Please see our Supervision FAQs for more details on the cost of supervision.
---
Personal Practice
I have practiced awareness, appreciation and compassion since childhood, as part of a Christian upbringing and in my mid 20's completed my first 8-day silent guided retreat with the Jesuits. I have regularly attended long silent retreats from different traditions at Gaia House, Dzochen Beara and St Beuno's as well as themed retreats in a number of different places, both in the UK and abroad. I have undertaken long-distanced walking retreats throughout my adult life, often following ancient pilgrimage routes.
I was introduced to mindfulness while working with teenagers in a Pupil Referral Unit in Salford in 2007.  I have a daily mindfulness practice which can vary depending on what I am teaching or is relevant at the time. I walk / run every day with intentional awareness. I have a regular embodied yoga practice and attend weekly voice yoga sessions.
---
Research Activities and Interests
My research interest has been around mindfulness in schools, particularly for school teachers. This was the topic for my MSc thesis, supervised by Dusana Dorjee and Sarah Silverton.
I have worked as a senior researcher on the MYRIAD research project, Dept of Psychiatry, University of Oxford since 2015. This project looked at all aspects of mindfulness in secondary schools, where I worked with over 100 schools across the UK.
I am also interested in the role that mindfulness can play in helping people lead a more active life, in particular walking and running.
---
Publications
Teachers "finding peace in a frantic world": An experimental study of self-taught and instructor-led mindfulness program formats on acceptability, effectiveness …
…, J García-Campayo, A Sonley, L Lord… – Journal of …, 2021 – psycnet.apa.org
Mindfulness training (MT) is considered appropriate for school teachers and enhances well-
being. Most research has investigated the efficacy of instructor-led MT. However, little is
known about the benefits of using self-taught formats, nor what the key mechanisms of …
Training school teachers to deliver a mindfulness program: exploring scalability, acceptability, effectiveness, and cost-effectiveness
…, W Kuyken, PhD, L Lord, MSc… – Global advances in …, 2020 – journals.sagepub.com
Background There is growing research support for the use of mindfulness training (MT) in
schools, but almost no high-quality evidence about different training models for people
wishing to teach mindfulness in this setting. Effective dissemination of MT relies on the 
The Role of Schools in Early Adolescents' Mental Health: Findings From the MYRIAD Study
…, K De Wilde, ER Farley, N Kappelmann, L Lord… – Journal of the American …, 2021 – Elsevier
Objective Recent studies suggest mental health in youths is deteriorating. The current policy
in the United Kingdom emphasizes the role of schools for mental health promotion and
prevention, but little data exist on what aspects of schools influence mental health in pupils …
https://educationblog.oup.com/international/mindfulness-tips-for-parents
10 steps to introduce mindfulness to your school
Oxford academics offer advice on implementing mindfulness skills in school to help pupil wellbeing…
LIZ LORD AND WILLEM KUYKEN 29 SEP 2020
---
Acknowledgments
Mindfulness: Ancient wisdom meets modern psychology
C Feldman, W Kuyken – 2019 – books.google.com
… She had the same idea to distill ancient mindful– ness practices into a form … for the work and
friendship of the colleagues who developed mindfulness-based cognitive … xviii Acknowledgments
Crane, Chris Cullen, Tim Dalgleish, Alison Evans, Liz Lord, Christina Surawy, John …
Mindful teacher, mindful school: Improving wellbeing in teaching and learning
K Hawkins – 2017 – books.google.com
… Mark Greenberg, Shui-Fong Lam, Stanley Chan, Emma Naisbett, Amy Footman and Liz Lord …
Department of Psychology,
---
Further info
I can be contacted at Liz.Lord@oxfordmindfulness.org